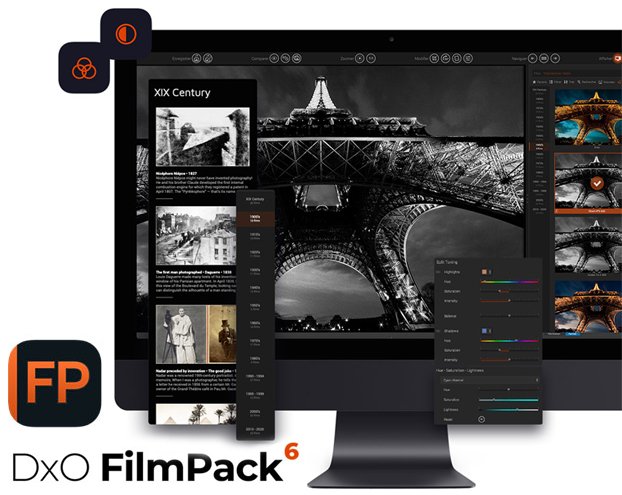 DxO FilmPack ELITE Edition reproduces the colors and grain of iconic films as closely as possible using an exclusive calibration procedure developed in the company's laboratories. The software recreates the hues, saturation, contrast, and grain of 84 authentic analog renderings within digital images. It also offers a decidedly original approach to browsing the various eras of photography.
A truer-than-life analog rendering
DxO FilmPack, a direct product of DxO's expertise as a pioneer of optical corrections, demosaicing, and denoising, faithfully reproduces the colors and grains of analog films thanks to an exclusive calibration process developed in its laboratories.
Faithfully rendered colors (NEW!)
Choose from 46 color film stocks that made history. Capture fantastic images using the vivid red and intense blues tones of EKTACHROME Professional Infrared EIR. Rediscover the softness of Kodak Portra 160 NC for your portraits, the magic of Polaroid, or the contrast and the vibrant colors of Fujichrome Velvia 50 for macro photography.
Legendary black-and-white film stocks (NEW!)
Discover the grain and contrast of iconic or missing black-and-white film stocks, including the legendary Kodak Tri-X, Fujifilm Neopan, Ilford FP4 Plus, or even Polaroid 664. DxO FilmPack helps you uncover your inner artist with its collection of 38 black-and-white film stocks. With IMPOSSIBLE PX 600 SILVER SHADE, you can also rekindle the effect of Polaroid 600 by creating the pastel sepia look of monochrome instant film.
Add a grain of truth to your images
Explore a new aspect of photography with the many grain effects available. Using the denoising tool, remove digital noise from your high-ISO images and replace it with authentic analog grain.
Time Machine: harnessing history to power your creativity (NEW!)
Version 6 features a completely new, interactive exploration of photography's history, presenting era-defining images and describing major events that shaped its evolution. Infuse your photos with the look and feel of the eras that inspire you.
The advantages of digital but with the spirit of analog
Thanks to RAW format support and the use of DxO's optical modules, you can correct all of your camera's lens defects, effectively reduce unwanted digital noise, and faithfully restore color.
The ultimate in lens corrections
DxO FilmPack 6 perfectly rectifies all lens defects thanks to the advanced measurements made in the DxO laboratory. From sharpness and distortion to chromatic aberrations and vignetting, discover the best lens corrections available.
8-channel HSL adjustments (NEW!)
Enjoy even greater color precision using the new rendering engine which now uses eight channels instead of six. Gain better control over the orange and purple tones of your photos.
Textures with a vintage look
– Simulate an accidental exposure of the film to light and create areas of overexposure or color saturation around the edges of the image
– A wide range of frames
– Vignetting and a host of creative options
– Selective blurring to focus the viewer's attention
Reveal the subtleties of black and white
Create subtle conversions with color filters. Using the channel blender, enhance the tones in your images with finely tuned precision.
Add intensity to your black-and-white photos
With the fine micro-contrast tool, precisely adjust local contrast in your photos. The algorithm applies a multi-scale filter which removes unwanted details while preserving the sharp edges of the image.
For more advanced processing
– Customize your editing process.
– Save your settings for intensity, grain, and contrast and apply them easily to other images in your library.
– Create consistent renderings across all of your photos
– Share your presets
– Snapshots
Total efficiency with DxO FilmPack
FilmPack was created from film characterizations that were built in the laboratory using the best digital development technologies. Simply put, it delivers the most authentic film renderings on the market.
Software that is seamlessly integrated into your workflow
DxO FilmPack can just as easily be used as an independent application, as a module within DxO PhotoLab, or in addition to Adobe Lightroom Classic, Photoshop, or Capture One.
System Requirements
– Microsoft® Windows® 10 version 1809 or higher (64 bits and still supported by Microsoft®), Windows® 10 version 2004 or higher recommended
– Intel® Core™ 2 or AMD Athlon™ 64 X2 or higher (Intel® Core™ i7 4th generation or higher, AMD Ryzen™ recommended)
– 4 GB of RAM (8 GB or more recommended)
– 400 MB or more available disk space



Password = www.nyinaymin.org